Training of the Scottish Fire and Rescue Service's retained duty system personnel: HMFSI inspection report
Related Downloads
Assesses the efficiency and effectiveness of the Scottish Fire and Rescue Service retained duty system training system.
3 Our findings
3.1 Initial training
Applicants who have been successful within the Service's RDS firefighter recruitment process are invited to attend a Task and Task Management (TTM) training course at one of the SFRS's central training establishments. A copy of the TTM course programme is shown in Appendix 1.
The course is designed to provide candidates with a range of core skills, familiarising them with fire and rescue service equipment and basic firefighting and rescue techniques. The course is delivered over a two week period and all elements of the course must be completed in sequence for the candidate to achieve a pass.
Attendance at the TTM course is mandatory. Many of the attendees have to travel long distances to training venues and stay in hotel accommodation during the course. Course attendance can cause problems with family and primary employment commitments.
All attendees on the TTM course receive the same input. A consequence of this is that some new entrants receive training on equipment which they will never use. For example, a firefighter from a remote island will be trained on how to pitch a 13.5 metre ladder in a confined space, even though this equipment is not available on the island.
Although course subject input is standard, variation in techniques of teaching content between trainers and delivery sites was identified as an issue. The differences were said to be apparent when trainees return to their home station after attending a training centre outwith their local area. There was said to be no standard delivery approach and the explanation for the difference depended on 'who delivered the topic'. This can lead to confusion and a need for further training.
Following completion of the TTM course newly trained firefighters are required to attend a Breathing Apparatus (BA) training course. This course is also delivered over two consecutive weeks at a central training facility. Again, this can lead to some trainees having to travel long distances, stay in hotel accommodation, and may clash with personal commitments.
BA and TTM training, together require a four week commitment. Some attendees will use a full year's annual leave entitlement or take unpaid leave from their primary employer to attend the training. The time and commitment required to attend this initial training was identified as a barrier to recruitment for some individuals, who would otherwise be willing and capable of fulfilling the role of an RDS firefighter.
The SFRS is well aware of the demands of training course attendance for RDS personnel. The Service is in the process of developing modular type courses that could be delivered in a more flexible manner and where possible, closer to an individual's home location. We welcome this development.
In developing the modular TTM course, we believe an opportunity exists to revisit the course content and to deliver modules that are tailored to better meet the individual needs of those attending. For example, as previously explained, firefighters from a remote RDS or volunteer unit that does not carry a 13.5 metre ladder would not need that module.
There is a one day input within the TTM course relating to attendance at Road Traffic Collision (RTC) incidents, which at the time of writing this report, did not have a tool-handling module. The remaining four days of the RTC operator course is delivered by TED LSO area-based staff when the trainee returns to their fire station and it is expected to be completed within six months. However, in some locations this further RTC training has taken a lot longer to achieve.
We have been advised that there are examples of variation, on interpretation of national standards on the delivery of training between individual training centres. This had led to confusion when trainees return to their home station, and the methods employed at the home station are different to what is taught at the training centre.
When redesigning the content or delivery method of the RDS training courses it would be beneficial to involve RDS firefighters from around the country at the development stage to add value to the course content and outcomes.
Recommendations
The SFRS should consider the personal impact on new entrant RDS firefighters attending their initial TTM and BA training courses and review:
alternative venues to deliver the training;
the timescales allocated for the training;
the course content and methods of delivery;
the involvement of RDS firefighters in course design;
the time taken in some locations to complete the remainder of the RTC operators' course where relevant; and
the extent that all training centres teach to the national policy and procedures (but recognising the need for variation, due to the availability of differing equipment).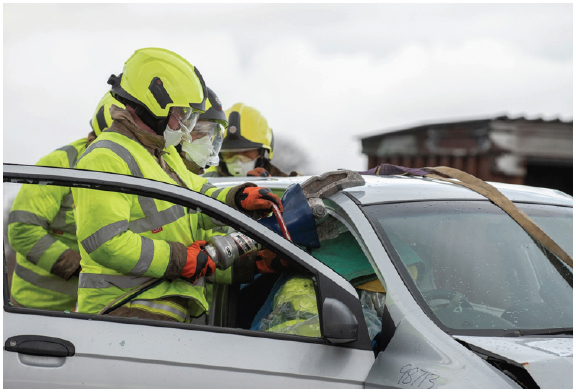 3.2 Maintenance of skills
Having attained basic skills through attendance at the TTM and BA training courses, RDS firefighters are expected to maintain their level of competence by adhering to the SFRS Training for Operational Competence (TfOC) Firefighter to Watch Manager Policy.[1]
The TfOC programme comprises practical and theory work. It is made up of 12 core training modules, 12 standard training modules, and 24 advanced training modules. (See Figure 3.) The content of each of the TfOC modules is the same for RDS and Wholetime staff alike. Each of the core skills are broken down to key component parts which are mandatory for all fire station based firefighters and supervisory managers. All aspects of each core skill must be completed timeously as required by the programme calendar and to the required standard for individuals to maintain competence.
A Maintenance Phase Development Framework has been created on a modular basis to ensure an even distribution of learning content and subject matter throughout a 36 month cycle. Standard modules are applicable to all fire station based personnel regardless of duty system. RDS firefighters are expected to complete the following:
all core training modules annually;
all standard modules over a rolling three year period; and
those advanced modules that are relative to the risks within their station area, on a three year rolling programme.
The TfOC modules have to be completed in a specific order, and are delivered as a blend of theory and practical based learning. The decision on what advanced modules should be covered by each RDS unit is made by LSOs and their teams, and notified to RDS managers. For example, it would not be necessary for crews on a remote island fire station to complete advanced modules on high rise buildings or railway incidents as these type of risks are not relevant to their location. However, during our inspections it was noted that there was confusion amongst local managers regarding the delivery of the advanced modules. There was uncertainty amongst some, as to whether there was a necessity to complete all of the 24 modules, or only those appropriate to the risks within their area.
The TfOC training materials are hosted on the Service's Learning Content Management System (LCMS) which is a web based system that can be accessed from a computer or mobile device with internet access. Hosting the packages in this way has the benefit of allowing content to be revised and kept up to date centrally without concerns regarding version control. The downside, as we have learned from our local area inspections, is that not all fire stations have reliable network connections. As a temporary solution some fire stations have been provided with a memory stick containing the entire content of the LCMS system. The use of memory sticks requires strict control and it also reduces the opportunity for staff to access the material off-station.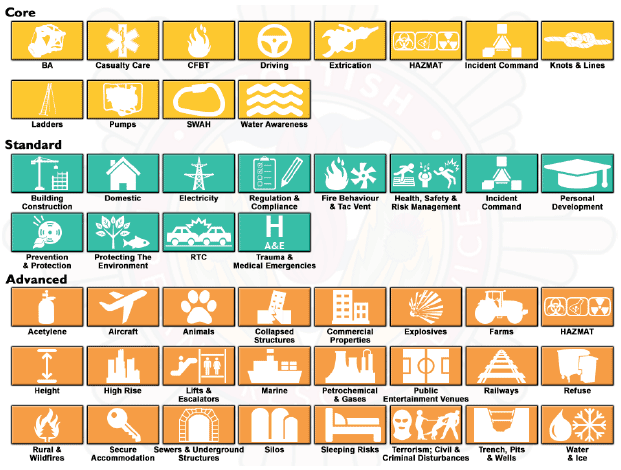 Each TfOC module includes:
core teaching material
an assessment
in some cases, supplementary materials
The learning modules on specific subjects have been developed with input from lead officers within the TED team, area based officers with a training reference, relevant practitioner groups and subject matter experts. 'The core operational training programmes are harmonised and aligned with national operational guidance/sector standards,' as identified within the SFRS People and Organisational Development Strategy 2014 and referenced within the Training for Operational Competency Policy.
While there is a range of stakeholders involved in the development of these modules, the Service was unable to identify any level of involvement by RDS staff. Our assessment is that modules are predominately created by Wholetime officers and subject matter experts and are created with a Wholetime firefighter audience in mind. The Service did stipulate that the brief for the creation of modules was that they had to meet the needs of the end user and be delivered in the time available. However, we have witnessed a level of dissatisfaction amongst RDS staff who are expected to undertake the training within challenging timescales.
During our interviews with RDS firefighters we were regularly told that there is excessive theory content in TfOC modules. The time required to deliver the depth of content, and to complete online assessments and update training records, left staff with very little time to conduct practical training, a concern that was consistently raised across the Service.
We examined a number of the TfOC modules and members of the inspection team attended fire stations on training nights to observe training being delivered to RDS staff. On one of our visits the training was delivered by a training officer from the Invergordon training centre; on the other occasions the training was delivered by the officer in charge of the RDS unit.
Both the Wholetime instructor and the RDS officers delivering the training packages made every attempt to do so in an interactive manner, stopping at times to demonstrate practical elements or provide supplementary information. Despite their best efforts, it did appear very difficult for staff to remain attentive because the packages are very text heavy and in some modules contain information that RDS firefighters do not need to know for their role. Some of the packages are over 100 pages long and staff can be overwhelmed with information.
The confirmation testing that follows each module is undertaken as a group exercise with each member of the crew being encouraged to contribute to answering the questions before the group answer is submitted. Following completion of the test each individual is then required to log on individually and complete the same test again before logging onto a separate PDRPro system to maintain their development records. At times this can prove difficult due to the limited number of computer terminals available and the broadband capacity on stations. Due to the lack of IT resources in some locations, some staff complete their records from their home in their own time.
We utilised the skills and support of colleagues from Education Scotland to consider the process involved in creating and reviewing learning content, and presenting this to a range of staff groups (who are likely to have different levels of learning styles, abilities and time available to devote to study). Education Scotland was given access to the TfOC system and looked at the learning content of each module and the way in which it is presented, offering recommendations for improvement where appropriate to do so. Colleagues from Education Scotland also attended and observed training being delivered at a number of RDS fire stations across the country, to provide an opinion on the suitability of current delivery methods and the arrangements in place to prepare RDS managers to deliver training.
The report provided by Education Scotland can be found at Appendix 2. Positive outcomes and Areas for Development from the report are summarised in Tables 1 and 2.
Table 1: TfOC areas of positive practice
Positive Findings
The range of units is comprehensive, covering areas that firefighters are required to understand and develop in order to operate safely. In the core units, there is a good mix of materials to reinforce learning.
The platform for the LCMS is easy to use and navigate and there is a wide range of resources.
In most of the training sessions, officers are provided with a good introduction which identifies the aims and outcomes of the lesson, with clear objectives established at the beginning and again at the end.
For those firefighters with additional support needs, such as dyslexia, arrangements are provided for additional time and coaching.
Carrying out assessments as a group exercise helps to stimulate discussion between crew members and encourages them to agree jointly on correct responses. It assists the trainer to clarify any necessary points.
Trainers often use personal perspectives and provide real-life examples and appropriate humour to engage participants. The use of practical demonstrations to illustrate elements contained within the PowerPoint presentations are of great value to the firefighters.
Table 2: TfOC areas for development
Findings for Development
In almost all stations there are insufficient computers for the size of the group. This impacts on the opportunities to access online support materials and undertake individual assessments. Due to time constraints, and availability of computer terminals, it can be challenging to complete online assessments on a training night. The resources are devised to be used for individual study, but are used as a group teaching tool, due to lack of computers.
Assessment banks are very limited and are not in the form of formative or summative assessments. Materials are detailed in places, but very minimal in others, and many of the modules are lacking effective examples.
For part-time firefighters, the volume of specialist knowledge covered in the training units is unrealistic.
Learning is not sufficiently differentiated to take account of the learning needs of newer crew members and more experienced firefighters.
Learning is too passive and is not sufficiently active. Training relies too heavily on lengthy PowerPoint presentations in which the trainer reads aloud the text.
Time restrictions often encourage only surface learning. Much of the teaching approach relies on short-term memory retention, which is assessed during the test. This is poor practice as, in time, it will be lost from recall.
Trainers do not utilise a sufficient range of questioning techniques to check understanding. Training sessions can be seen as dull and not sufficiently stimulating for the crew.
In almost all cases, training for presenters had taken place some time ago and there has been no refresher courses to support them develop their training approaches. In some cases, the trainer had not received any formal input on delivering training.
Assessment feedback is underdeveloped with regards to identifying where learning has not been effective.
In almost all cases, firefighters do not value or enjoy the sessions.
It is evident that a considerable amount of good work has gone into creating a software platform that can host these packages which are very comprehensive and contain a great deal of useful information. Our examination of the modules and direct observation of their delivery led us and Education Scotland to conclude that modules can be overly complex and very text-heavy with content not always easy to understand. Modules are not tailored to the needs of RDS firefighters who have competing priorities and a limited amount of time available for training.
The modules have been created by subject matter experts and provide a great deal of background information, such as specific reference to legislation, medical terms, and facts and figures. This can prove very difficult to digest and even more difficult to recall when taking the online test at the end of the session.
We are aware that a review of the TfOC module content has been undertaken as part of a full review of TED. The Service recognises the benefits in seeking the opinions and views of RDS firefighters when developing the new style packages to ensure they can be delivered in a manner that takes into account the limited training time available within the duty system. The review team will aim to find opportunities to streamline packages and this will free up some time within the RDS training schedule. The full review of training was reported to the SFRS Senior Leadership Team in December 2019.
The current system of taking an online test then having to update a separate PDRPro system to confirm having taken the test leads to frustration, particularly in fire stations with limited numbers of terminals and/or limited broadband. A move toward a system that allows online records to be updated automatically on completion of training and validation of learning would reduce this frustration significantly, free up time and create capacity to do more practical training.
Another concern regularly voiced by RDS staff relates to an inconsistency in training hours available in RDS units across the country. This issue forms part of a wider discussion around the harmonisation of Legacy Terms and Conditions (see Glossary) for uniformed staff and has, by admission from the Service, taken longer than had originally been anticipated. Whilst many of the issues relating to harmonising terms and conditions have been addressed, the final decision on harmonising training hours for RDS staff is under consideration by a RDS review group reporting to the SFRS Board's Remuneration, Nominations and Appointments Committee.
Recommendations
The SFRS should consider:
the content and relevance of RDS TfOC packages and amend accordingly;
engagement with RDS staff when developing TfOC packages in the future;
the availability and suitability of IT resources at RDS fire stations to support training;
reviewing the method for assessing competence; and
the delivery of more practical training for RDS staff with a reduction in theory content.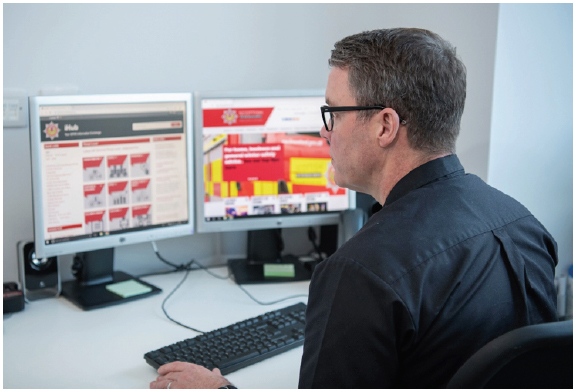 3.3 Specialist skills
In addition to the skills taught during the TTM and BA courses, and the TfOC programme, there are a number of specialist skills that RDS firefighters require. We identified two specialist skill areas during our fieldwork that raised training issues for RDS staff. We recognise that other vehicles and equipment in use by the Service may have similar or other specialist training implications.
Driver training
The most common type of specialist training is the requirement for a number of firefighters from each fire station to be trained to drive emergency vehicles. For those RDS fire stations operating with appliances that are categorised as Large Goods Vehicles (LGV) the acquisition of an appropriate licence is a legal requirement. The Service's policy also requires staff to have a full and valid category C1 licence to drive vehicles over three and a half tonnes and less than seven and a half tonnes. Driver training is provided by internal driving instructors. Candidates are required to attend a one week course that is routinely delivered from one of the SFRS's central training facilities. There is a requirement for an additional one week course in Emergency Fire Appliance Driving (EFAD) in order to drive under 'Blue Light' conditions.
Again, this commitment can prove difficult for RDS firefighters, particularly those living in remote areas who have to stay in hotel accommodation. As with other centrally delivered training, this can impact on some individuals' primary employment.
An issue raised by RDS staff on island locations is the relevance of undertaking Emergency Fire Appliance Driving courses in a city environment and on motorways. There is a strong view that EFAD courses should be delivered on the island where they will be responding to incidents, reflecting the environment and risks that they face. RDS drivers on remote islands do not respond to incidents on the mainland. (If an RDS firefighter/driver moved to a station on the mainland their level of training could be reviewed accordingly.) There are shortages of drivers at some island fire stations. Individuals we interviewed stated they would be prepared to undertake driver training if the training courses were delivered locally.
While the SFRS's driver training team has made efforts to make training available at times that suit candidates, this has not always been possible to achieve. Recent changes to terms and conditions of non-uniformed driving instructors as part of a pay and reward process has impacted on this facility.
We asked the Service if consideration has been given to using third party providers to deliver this element of training in remote areas and islands to minimise disruption for candidates, and provide driver training courses relevant to topography and risk. The SFRS advised that options have been considered following a recent pilot in the north east of the Service and as part of the wider review of training. The findings will be reported as soon as possible.
Recommendations
The SFRS should consider:
providing LGV driving courses in remote and Island locations to minimise the personal impact to RDS staff;
using third party providers to deliver LGV training; and
delivering EFAD training courses on Islands to reflect topography and risk.
High reach appliance training
In 2017 the SFRS undertook a review of high reach appliance provision.[2] We were advised that one fire station has a high reach appliance that is driven and operated by RDS firefighters and that it is challenging to provide the necessary training to RDS staff to allow them to gain competence in operating this complex type of vehicle.
To improve training for RDS operators the Service has created a modular version of the high reach operators course. This approach is designed to allow staff to attend on days that suit them, and to complete individual modules, rather than require continuous attendance over a two week period. This modular approach, whilst well intentioned, does lead to a decay of skills between sessions and the loss of continuity and break in practice bring additional challenge for the trainee and the instructor. Consequently, more time has to be factored into the programme to refresh the trainee on what they have learned on the previous module.
The content of the course is the same as that delivered to Wholetime firefighters. Much of the syllabus is dictated by the manufacturer of the appliance and as such it is difficult to be flexible with the content. Despite the requirement to replicate course content, the Service has attempted to offer flexible delivery options to allow RDS firefighters to access training in a way that best suits them, such as weekends, evenings, and weekdays etc.
There is also a further complication regarding the reliability of high reach appliances and the impact on training. During a visit to a RDS fire station in August 2018 as part of a thematic inspection[3], we identified that the high reach appliance
is off the run on a regular basis and waiting for a replacement; and
the vehicle being away frequently has a major impact on training for both new and existing operators and drivers.
In addition to initial training, high reach drivers are required to access training materials on LCMS (advanced module) and record that they have completed this module through the PDRPro system. They are also re-tested on a three-yearly basis to confirm competence to operate this equipment.
Earlier in this report it is recognised that RDS staff find it challenging to maintain their core operational competence, mainly due to the amount of time being spent on the theory elements of the LCMS packages. This is more challenging for RDS staff who have the added responsibility of training to operate a complex high reach appliance.
The Service should ensure that the training arrangements for RDS firefighters who operate a high reach appliance are appropriate to maintain both their operational competence for core firefighting skills and the high reach appliance competence. Depending on the number of incidents and other training commitments, the Service should consider crewing the high reach appliances by a different crewing model.
Recommendations
The SFRS should:
ensure RDS firefighters are able to maintain both their core skills and high reach operational competence; and
consider crewing the high reach appliance with members of staff using a different crewing model.
3.4 Incident command training
The SFRS operates an Incident Command System (ICS) in line with the National Operational Guidance produced for the UK Fire and Rescue Services.[4] The system allows for an appropriate structure to be put in place at incidents of all types and sizes. The ICS provides that operational resources are allocated, supervised and commanded, at all emergency incidents, in a safe and controlled manner.
The SFRS Incident Command Development Pathway Policy[5] states, 'it provides a consistent approach in regard to the training, development and assessment of Incident Commanders.'
Personnel access the pathway based on their current or proposed level of Incident Command (IC) responsibility:
Incident Command Level 1 (ICL1) - Initial Incident Command Course
Incident Command Level 2 (ICL2) - Intermediate Incident Command Course
Incident Command Level 3 (ICL3) - Advanced Incident Command Course
Incident Command Level 4 (ICL4) - Strategic Incident Command Course
The ICL1 course is delivered in one week at one of the national training facilities. The course is available to Wholetime and RDS managers alike; however, it can be difficult to attract RDS managers due to the length of the course and the necessity for it to be run at a central facility. This barrier is similar to those described earlier in respect of TTM, BA, and driver training courses.
All staff who are expected to undertake the IC role are required to demonstrate competence on a periodic basis. This is is known as Incident Command Assessment (ICA). The ICA is theory based and assessed using a simulation of an incident on a computer. Assessment should also be supported by continual development.
RDS managers and RDS firefighters acting up should undertake an initial ICA (also known as 'ticket to ride') prior to completing an ICL1 course.
The ICA for the level one course is undertaken by local training staff in a day and can take place at any fire station or SFRS premises. At the conclusion of the ICA input, candidates are tested against standard marking criteria to ensure they have attained a satisfactory level of competence.
Incident commanders yet to attend an ICL1 development course will undertake a refresher every two years. Once someone has achieved ICL1, the refresher has a variable time to be completed, between two and three years.
While undertaking fieldwork for a recent local area inspection (LAI) we examined data provided by the Service and established that 25 individuals (49% of RDS incident commanders in that area) had not attended the ICL1 course, or the equivalent courses of the legacy FRS (see Appendix 3). At the time of the inspection the LSO recognised the gaps in the RDS practical training and assessment for IC and was developing bespoke courses for staff to attend on weekends. We acknowledge this positive approach.
The evidence found during the LAI was substantiated further during other fieldwork on islands within a different LSO area. We interviewed a number of RDS incident commanders with varying lengths of service who also confirmed they had not attended the ICL1 course or received any practical IC training or assessment. Some individuals had asked to attend the course but were informed no courses were available for them. Other staff said they would like to attend the course but could not commit to a week away at a central training venue and welcomed alternative delivery options.
In remote rural areas and islands the level and physical presence of operational support to RDS units at incidents is less when compared to urban areas. At some incidents this means that RDS staff with an IC responsibility may be in charge of an incident for a long period of time before the next level of command arrives. We recognise command support is available and provided remotely by the Service using a radio or mobile phone; however, this does have limitations particularly during a dynamic and complex incident.
The Service's IC development pathway should, as referenced earlier, provide a consistent approach with regard to the training, development and assessment of incident commanders. We have witnessed a two tier approach for level one commanders within the SFRS, where an ICA is an acceptable level of competence for RDS staff to achieve whilst all Wholetime staff must attain ICL1. The Service should address this inconsistency and inherent risk and consider other delivery methods for RDS staff to achieve parity of IC training with Wholetime staff.
Staff involved in the delivery of ICA courses are trained centrally. However, we identified that there is no system in place to quality-assure this training to ensure a consistency of approach and delivery across the Service. A training standard for locally delivered courses is currently being considered by the SFRS as part of the ongoing review of training and we welcome this.
Recommendations
The SFRS should:
provide initial IC level 1 command courses for RDS staff with IC responsibilities;
provide alternative venues and delivery methods for the initial ICL1 command course; and
develop a quality assurance process for the delivery of ICA and ICL1 courses.