Climate Change: managing the operational impact on fires and other weather-related emergencies
Related Downloads
This report focuses on the SFRS's operational activity due to climate change and presents the Chief Inspector's independent view of the current arrangements.
Our Inspection Findings - 4.2 Response to Wildfire
59. Major wildfire incidents have the potential to be prolonged and resource intensive. Such fires can be unpredictable and can be challenging, physically arduous, and hazardous to firefighters due to the rurality of location, weather in terms of wind and heat, rough terrain, and types of fuel and vegetation involved.
60. It is anticipated that due to changes in climate, the scale and impact of wildfire incidents will increase. Figure 1 shows the number of outdoor fires in Scotland over a five year period.
Figure 1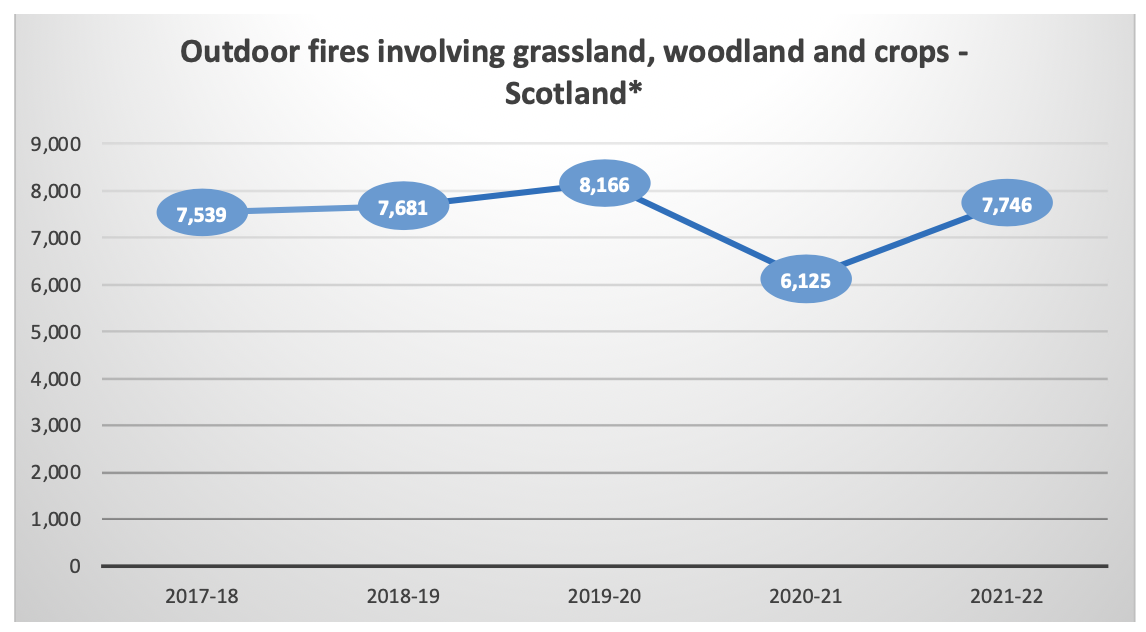 61. The data in figure 1 includes the period when Covid-19 pandemic restrictions were in place and the occurrence of fires may to some extent have been influenced by peoples' actions or inactions during this time in line with the restrictions.
62. The number of incidents alone does not provide a true picture of the impact of these fires in terms of number of appliances and crews in attendance or the duration of the incident. In April 2023, Glenluig in Lochaber was affected by a wildfire covering 13 square miles. In May 2019, 20 square miles of peatland was involved in a wildfire in Sutherland's Flow Country. However, to be able to accurately analyse trends and the impact on the SFRS of wildfires, more detail would be useful.
63. Figure 2 shows the number of outdoor fires over the same timescale that involved an area over 10,000 m2.
Figure 2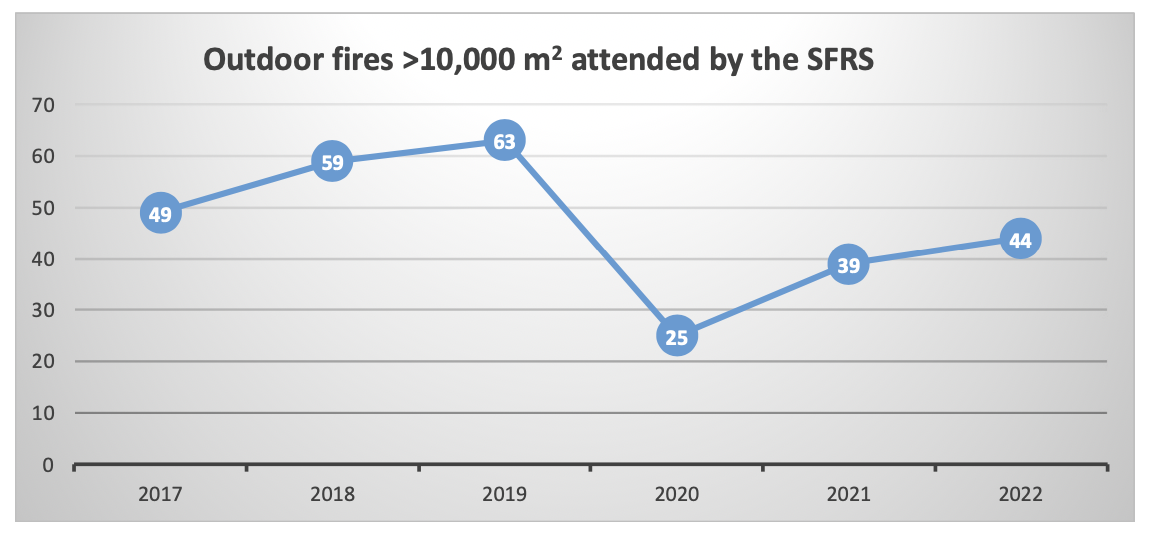 64. A Wildfire operational guidance document issued in 201312 contains a list of criteria for recording purposes, and that would assist in drawing a distinction between minor vegetation fires and wildfire incidents. The criteria are any of:
Involves a geographical area of >1 hectare
Has a sustained flame length of >1.5 metres
Requires a committed resource of ≥ 4 FRS appliances
Requires resources to be committed for ≥ 6 hours
Presents a serious threat to life, environment, property and infrastructure
65. By comparison, figure 3 shows wildfire statistics for England and Wales using the above criteria.
Figure 313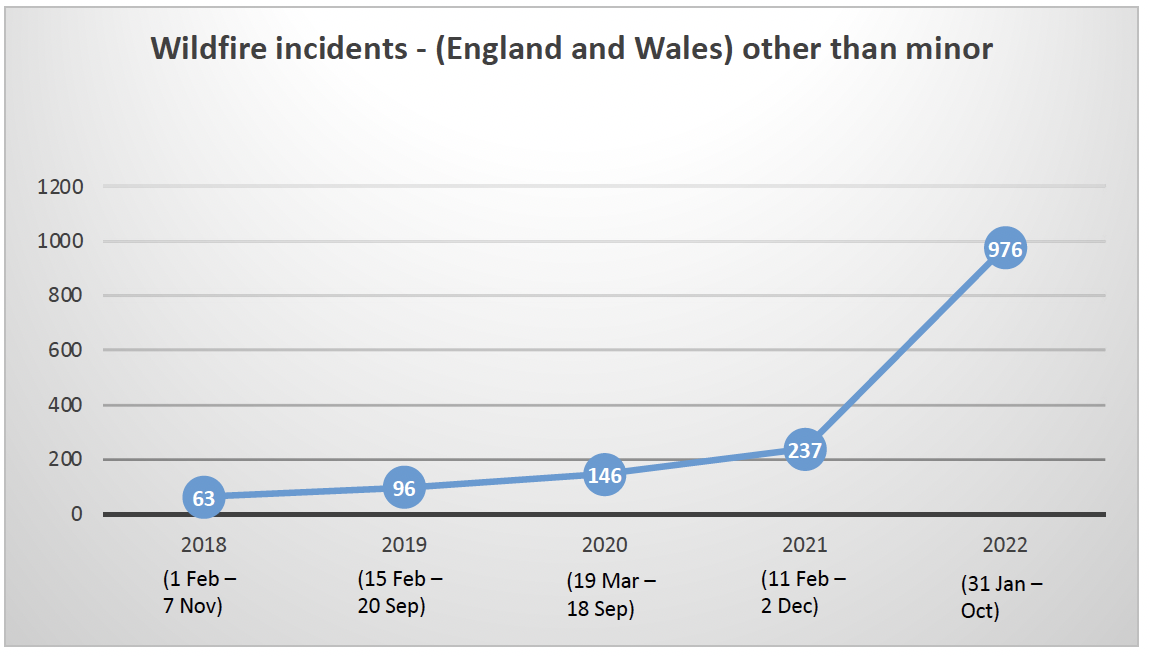 Source: NFCC
66. The Incident Recording System (IRS) used by the SFRS does not record all of the incident criteria relative to wildfires, and limitations of reporting tools available make it difficult for the SFRS to fully understand the level and impact that wildfires have on the organisation. We have included a recommendation relative to this issue later in the report.
SFRS Planning and preparation
National Framework and Legal duties
67. Making provision for tackling wildfires falls within the Service's core firefighting duties. The SFRS has a legal duty to make provisions for extinguishing fires and protecting life and property in the event of fires occurring14 and for giving information and publicity to prevent fires.15
68. The statutory function is supplemented by guidance in the Fire and Rescue Framework 2022: "Wildfires in the UK already cause substantial ecological and environmental damage and demand considerable and costly fire-management resources and different capabilities to address them. SFRS should continue to invest in the provision of specialist resources, technological advancements and forward thinking operational practices to enhance its response to wildfire events. SFRS should continue to make use of local assets available to bolster its response during prolonged or widespread incidents such as wildfire."
Strategy, Policies and Procedures
69. The SFRS has designed a wildfire strategy, although not yet fully implemented, for the provision of resources and advice at wildfires. The strategy describes a four-tier level of resource provision:
Tier 1: a standard level of training for all firefighters.
Tier 2: a fire station with wildfire support capability. Fifteen existing locations proposed. These stations will hold additional equipment. In addition to beaters and shovels, they are expected to be supplied with leaf blowers, mechanical brush cutters and hand tools to assist in creating a fire break.
Tier 3: a fire station with a wildfire specialist capability. Ten existing locations proposed. In addition to the equipment described for tier 2, they are expected to be provided with dedicated vehicles for carrying additional equipment including backburning and tactical burn operations.
Tier 4: wildfire tactical advisor. Twelve individuals envisaged.
70. Tactical advisors are trained so they can give advice to incident commanders on tactics to contain and suppress the fire as appropriate. They are also trained to provide advice on expected weather impact and advise on logistical planning (incident resources). There are a small number of Wildfire tier 4-trained Tactical Advisors in place, and they are utilised to attend incidents and provide remote assistance to incident commanders.
Good Practice 3
The provision of Tactical Advisors who are available to remotely give advice on tactics to incident commanders is a particularly useful feature of the wildfire strategy given the geography of Scotland, albeit the full complement of advisors has yet to be achieved.
71. Considerable time and effort has been devoted by those involved in the design of the wildfire strategy but the implementation of the strategy has been delayed due to competing priorities within the Service.
72. The delay has been due in part to changes in personnel. Those driving the implementation of the strategy are doing so around their business as usual commitments. The time taken for the procurement of equipment also introduces a time delay.
73. The SFRS has a Standard Operating Procedure (SOP) for 'Wildfires' which was designed alongside the planned implementation of the strategy. Some of the terminology in the SOP is not fully understood by firefighters and some of the SOP content is not covered by the SFRS online training module on wildfire. Specifically, the SOP refers to 'backburn' being a method of indirect attack for wildfires which are intense. This involves deliberate burning of an area of vegetation to create an area free from fuel. The SOP does highlight that this practice is being adopted in certain regions within Scotland and must only be carried out by competent personnel.
74. The online training module content has been refreshed and is well presented and user friendly. Those we spoke to had an awareness of the module and knew how to access this within the in-house Learning Content Management System (LCMS).
75. An element of the SOP which is further explained within the training module is the wildfire prediction system. This details the three major influential factors which can affect wildfire development, these being:
Wind – which drives a fire, gives it wind direction and feeds it with oxygen
Slope – which can alter direction and effects the preheating of fuels
Aspect – the direction a geographical slope faces in relation to the sun; if facing the sun, the ground will be subject to solar heating. This element can differ by the time of day.
76. All three of the above factors have a positive effect on fire development and are the main issues which can increase fire severity, speed and flame length.
77. Wildfires can be classified depending on how many of the above factors of alignment are in its favour. This ranges from factor 0 (no factors of alignment), to factor 3 (all three factors of alignment).
78. A Wildfire SNUG (SFRS National Users Group) has been established, Very few staff we spoke to at fire stations knew about this group, nor its point of contact. Internal communications and engagement regarding the implementation plan, along with the detail behind the strategy, has been limited.
Recommendation 5
The SFRS should reinvigorate the operation of the Wildfire SFRS National Users Group (SNUG), and look to communicate the implementation plan and encourage two way engagement to assist in participative development of the Wildfire Strategy.
79. The equipment available to the SFRS for use at a wildfire incident consists of
basic equipment in frontline appliances
additional wildfire equipment carried on a limited number of appliances
four wheel drive vehicles used to carry equipment and personnel
five all-terrain vehicles.
80. Frontline appliances carry basic equipment for dealing with wildfires. This includes beaters, which are constructed with a pole and industrial grade rubber (see figure 4). The rubber is used to 'beat' out the flames produced from a grass fire. Other equipment on frontline appliances that would be used include water from the appliance tank itself, and lightweight portable pumps which can be carried to a water source (for example, a loch or burn) to assist in extinguishing fires.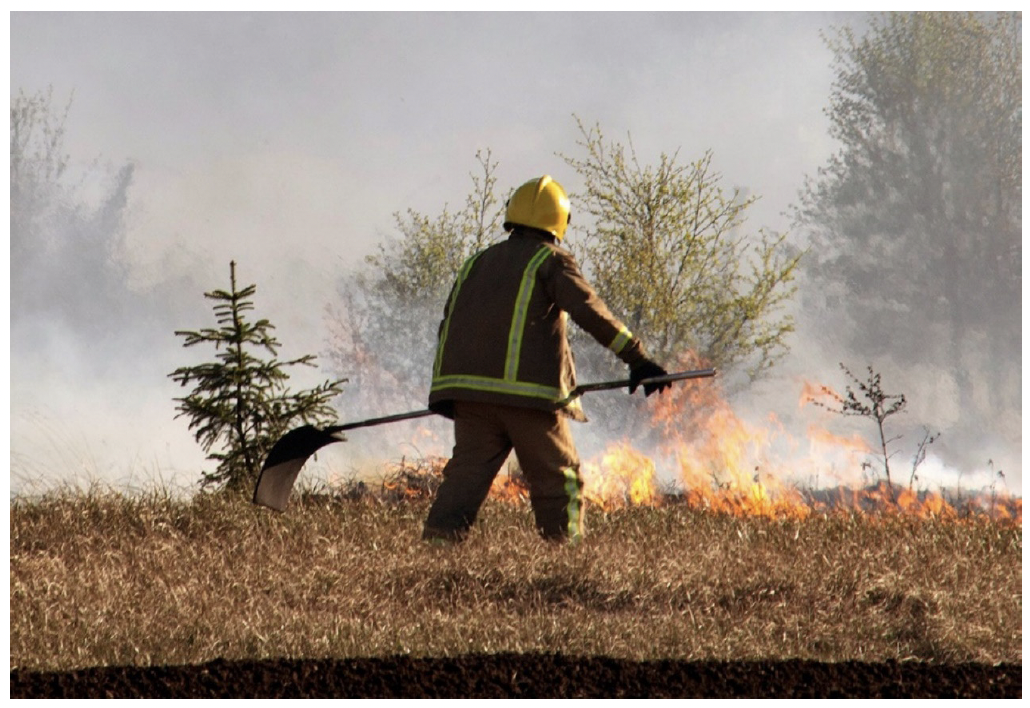 81. Additionally, some frontline appliances carry knapsacks, which are effectively backpacks used for transporting water to the scene of a wildfire with a spray nozzle for directing and spraying water onto the fire. And some carry banana pumps which are a smaller, lighter and more versatile type of portable pump which can be used to draw water from an open source.
82. The five all-terrain vehicles are based at fire stations. These can be requested by incident commanders and can be used for carrying personnel and equipment to and from the scene of a fire, thereby reducing some of the physical activity firefighters are typically faced with at wildfire incidents.
83. Some fire stations carry additional equipment in 4x4 vehicles or trailers. Examples of this equipment are radio repeaters which can assist with communication at wildfire incidents, and fogging units which can assist in producing a fine spray ('fog') to assist with extinguishing wildfires by enabling the spread of water delivery over a larger area.
84. Some of the trailers in use which carry extra equipment, such as fogging units, do not have a 4x4 capability. This limits the equipment which can be used at the scene of operations. It is envisaged that the full implementation of the wildfire strategy, including the equipment and vehicles to be used, will improve this capability.
Good Practice 4
As part of the SFRS's wildfire strategy, the increased provision of training and equipment as part of the tiered response levels is a significant investment by the SFRS, which will allow a greater level of capability for response to wildfire incidents.
During the course of our inspection we became aware of progress towards the implementation phase of the strategy, and were advised of completion of the procurement phase of the project through to delivery of equipment.
Personal Equipment
85. Wildfires can occur during periods of higher than normal ambient temperature. The physical activity involved in tackling a wildfire in hot and arduous conditions can have physiological effects for firefighters, including fatigue, dehydration, heat illness and confusion.16
86. The majority of firefighters that attend wildfire incidents do so wearing their structural firefighting kit. Structural firefighting kit offers a level of thermal protection but in the hot and arduous conditions often experienced at wildfires, firefighters can be considerably uncomfortable or can suffer physiological effects when wearing this clothing, often for a number of hours.
87. The SFRS wildfire strategy includes the provision of a suitable lightweight firefighting kit for tier 2 and tier 3 responders. Typically, a wildfire will involve the attendance of a number of crews being rotated over a period of days and it is likely that, even with aforementioned provision of lightweight PPE at tier 2 and 3 stations, many of the personnel attending will be required to undertake firefighting activities in their structural firefighting kit, which is not best suited to the conditions at wildfire incidents.
Operational Intelligence
88. The SFRS wildfire SOP does not envisage the holding of site specific plans on the SFRS OI system relative to wildfires. There is however an expectation that there will be preplanning in line with plans made by individual landowners.
Welfare
89. The provision of welfare arrangements for personnel at wildfire incidents can be difficult. This is largely influenced by the rural location in which many of these incidents occur.
90. There are a total of five welfare units and two welfare support vehicles strategically positioned across Scotland. The units are carried by prime movers to incidents upon request by the incident commander. They have toilets, a rest area, hot drinking water, washing facilities and heating and lighting. There were limited examples of where the welfare units have been used at wildfire incidents. It was expressed to us that this is mainly due to the rural locations most wildfires occur, and the considerable distances away from where the welfare units are located.
91. The Wildfire SOP advises incident commanders to consider crew rotation as appropriate. Operations control (OC) personnel we interviewed described the practice of providing relief crews, where possible, who have not recently been utilised at that same incident. In spate call conditions this can be challenging to achieve.
92. The SOP emphasises the importance of personnel maintaining hydration at such incidents by utilising bottled water carried on appliances. Practically, transportation at an incident can be difficult due to the requirement to carry firefighting equipment and handheld radios, whilst there is no provision of bags or carrying devices to carry equipment.
93. We received suggestions during our fire station visits for the provision of rucksacks for carrying items across rural terrain and camel packs for ease of carrying water and other items. There was also a view that only items already available on the stores platform (computerised catalogue system used to order consumable items) could be requested and that there is no forum available to suggest ideas or improvements.
Recommendation 6
The SFRS wildfire SNUG should add crew welfare to its agenda as a commitment to explore practical improvements to welfare arrangements.
Training and exercising
94. Tier 1 wildfire training for personnel involves following the online learning content within the SFRS's national training schedule –'rural and wildfire' module. There is also a module in place as part of the FDO training schedule. These modules cover operational procedures for dealing with wildfires and include an explanation of the wildfire prediction system and suppression tactics. The training pack (rural and wildfire module) does not fully encompass the content of the wildfire SOP. Some of the terminology used in the SOP is not widely known.
95. There is no specific additional training package in place for tiers 2 and 3 personnel as this aspect of the wildfire strategy is yet to be developed.
96. The SFRS does not have the level of expertise to train tactical advisors in-house and training for the cadre of tier 4 tactical advisors is provided by an external provider. Previously personnel travelled to Catalonia to learn the required skill-set, as until recently there was no UK training. Northumberland FRS has now developed training courses and the SFRS envisages utilising this training. It is a longer-term aim for the SFRS to develop in-house training for tactical advisors.
97. Evidence of exercising with partners for wildfire incidents, either practical or table top exercises, is limited.
Wildfire Prevention
98. The SFRS's Prevention and Protection function provides a limited amount of resources which are designed for use by fire station personnel and community action teams when delivering wildfire prevention initiatives.
99. On speaking to crews at fire stations across the country, some were able to talk about examples of wildfire and outdoor fire prevention initiatives carried out in their area. Examples were, educating communities and tourist populations, including guidance on safe use of barbeques and providing campsite safety messages.
100. Some staff we spoke to felt that there could be more of a preventative focus regarding wildfires. No examples were given, for example, of station or community action teams directly engaging with land managers to discuss themes such as the muirburn code.
101. Muirburn is the controlled burning of vegetation by land managers of moorland to promote growth and maintain open moorland. The Muirburn Code17 provides guidance to practitioners for the burning and cutting of vegetation, and sets out statutory restrictions for those practicing muirburn. Using fire and cutting equipment are useful land management tools. When carried out correctly muirburn can provide benefits which can contribute to reducing the impact of wildfires, due to the managed reduction of vegetation which could be considered to be fuel for potential wildfire development.
102. However, muirburn is understood to be a major cause of wildfire in Scotland. Wildfires can develop due to reasons such as having inadequate firebreaks, insufficient numbers of staff and equipment when conducting muirburn or due to undertaking muirburn in the wrong conditions.
103. The principal legislation governing muirburn is the Hill Farming Act 1946 and this covers the burning of all moorland vegetation including grass and gorse.
104. The Wildlife Management and Muirburn (Scotland) Bill (the Bill) was introduced in the Scottish Parliament on 21 March 2023. Part 2 of the Bill regulates the making of muirburn by extending the licensing system for muirburn. There would be different requirements depending on the time of year and whether the muirburn is taking place on peatland or not.
105. If passed, the Bill will largely replace the current regime for regulating muirburn, set out in the Hill Farming Act 1946.
106. The Muirburn season runs from 1 October to 15 April, extendable to 30 April with permission of the land owner (although this extension is not encouraged by the Scottish Government due to increased risks to ground-nesting birds in late April). The Bill includes provision for Scottish Ministers to be able to amend the Muirburn season if deemed necessary in relation to climate change or for preventing or reducing the risk of wildfires.
107. The SFRS actively promotes heather management to reduce the fuel load and prevent wildfires. In addition, the SFRS encourages land managers to complete a new online course which promotes best practice, thereby reducing the chance of wildfires occurring when conducting muirburn. The development of the course has had multi-agency involvement, whereby the SFRS worked collaboratively with the Scottish Gamekeepers Association, Scotland's Regional Moorland Groups and NatureScot to help shape the lessons.18
Partnership arrangements
108. The Scottish Wildfire Forum (SWF) is a partnership which includes the SFRS and representatives from relevant organisations with land management interests. It has the aim of achieving a reduction of the number of unwanted wildfire occurrences in Scotland and raising the profile of work being carried out to minimise the impact of wildfire. The SFRS's wildfire lead is the chair of the SWF.
109. The forum aims to achieve its objectives by developing initiatives which will reduce19:
the risks to firefighters and members of the public
the amount of damage to vegetation
the negative impact on property, assets and ecosystem services
the costs of firefighting.
110. Partners who attend scheduled SWF meetings include the SFRS, NatureScot, Scottish Gamekeepers Association, Scottish Environment Protection Agency, NFU Scotland, along with moorland groups and representatives and managers from land estates.
111. Through its engagement in the SWF, the SFRS receives Wildfire Danger Assessments, which are voluntarily produced by one of the partners. These warnings are circulated to the land management sector and to the SFRS when there is considered to be a heightened risk of wildfire in Scotland. The SFRS uses this information for communicating the predicted location of increased threat of wildfires to operational personnel and also utilises the risk assessments in social media messages to the wider public, with accompanying advice to communities on enjoying the outdoors safely and responsibly.
112. The Wildlife Management and Muirburn (Scotland) Bill contains provision for licensing and that where an application for a muirburn licence relates to conducting muirburn on peatland, Scottish Ministers granting a licence must be satisfied of conditions including "no other method of vegetation control is available". Peatland, according to NatureScot, accounts for over 20% of Scotland's land area. The alternative to muirburn for managing surface growth is cutting which is a more resource intensive method of controlling vegetation. We feel that the SWF has a key role to play as a conduit between stakeholders affected by the progression of the Bill and that the SFRS should monitor developments whilst retaining its focus on wildfire prevention.
113. There is a potential for varying views amongst partners which may impact on the future progression of joint wildfire prevention strategies. Opinions expressed to us suggest that environmental bodies may discourage muirburn, for example, due to the potential effects on the environment. However, land managers generally believe that good land management including the controlled burning of excess surface fuels helps new growth which encourages wildlife and the carbon levels released through muirburn may be less harmful to the environment than those of an uncontrolled wildfire.
114. The SFRS has been involved in the development of the SWF and has an influential position within the partnership. It seems to us that it is important for the Service to continue to have a prominent role within the SWF to fully appreciate the full range of opinions, to enable discussions with partners and for progressing a national wildfire strategy.